Chiropractor Shelby Charter Township MI
Back and Body Chiropractic Center
Welcome to Back & Body Chiropractic Center. We are located in Shelby Township, MI, an up and coming area in northern Macomb county. We are located on the northeast corner of 25-mile Rd and Van Dyke Ave in the Vince and Joe's plaza. We opened our doors in September 2011 and have loved every minute of serving the Macomb and Oakland communities and beyond. We strive to provide our patients with honest, high-quality care at an affordable cost. Our mission is to make a healthy, positive impact on every patient that walks through our door. Please don't hesitate to contact our Shelby Charter Township chiropractors with any further questions you have.
At Back and Body Chiropractic Center we try to deliver the best care around without any of the nonsense. We treat every patient as if they were family. No sales, no crazy care plans, no gimmicks, just honest heartfelt care. We offer a variety of services to help get our patients back to health including Chiropractic care, Therapeutic Massage, Spinal Decompression, and weight loss/nutrition consulting.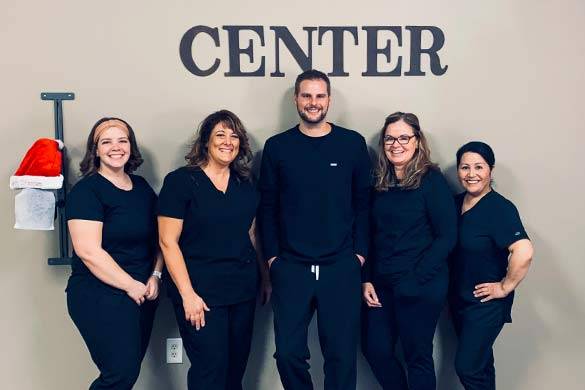 How Can Chiropractic Care in Shelby Charter Township Help You?
Most people are under the impression that chiropractic care is only for back pain. This is a common misconception as we also treat neck pain, headaches, sciatica, disc issues, auto injuries, and overall family care.
A common misconception we get asked all the time is, "If I start chiropractic care do I have to continue for the rest of my life?" The quick answer to that is absolutely not, but after experiencing how much better you can feel after being under chiropractic care you may understand why people continue with wellness care.
If you are interested in making an appointment, we always offer a free consultation so you can see first hand what we do in our office and have a chance to meet our staff. To make an appointment please call 586-207-1624.
chiropractic care for a better lifestyle
Great medicine is to teach people how not to need it. We pride ourselves at Back and Body Chiropractic Center in giving you the best treatment just for you. At Back and Body Chiropractic Center we welcome patients of all ages.
From newborns to the elderly, we are here to help.